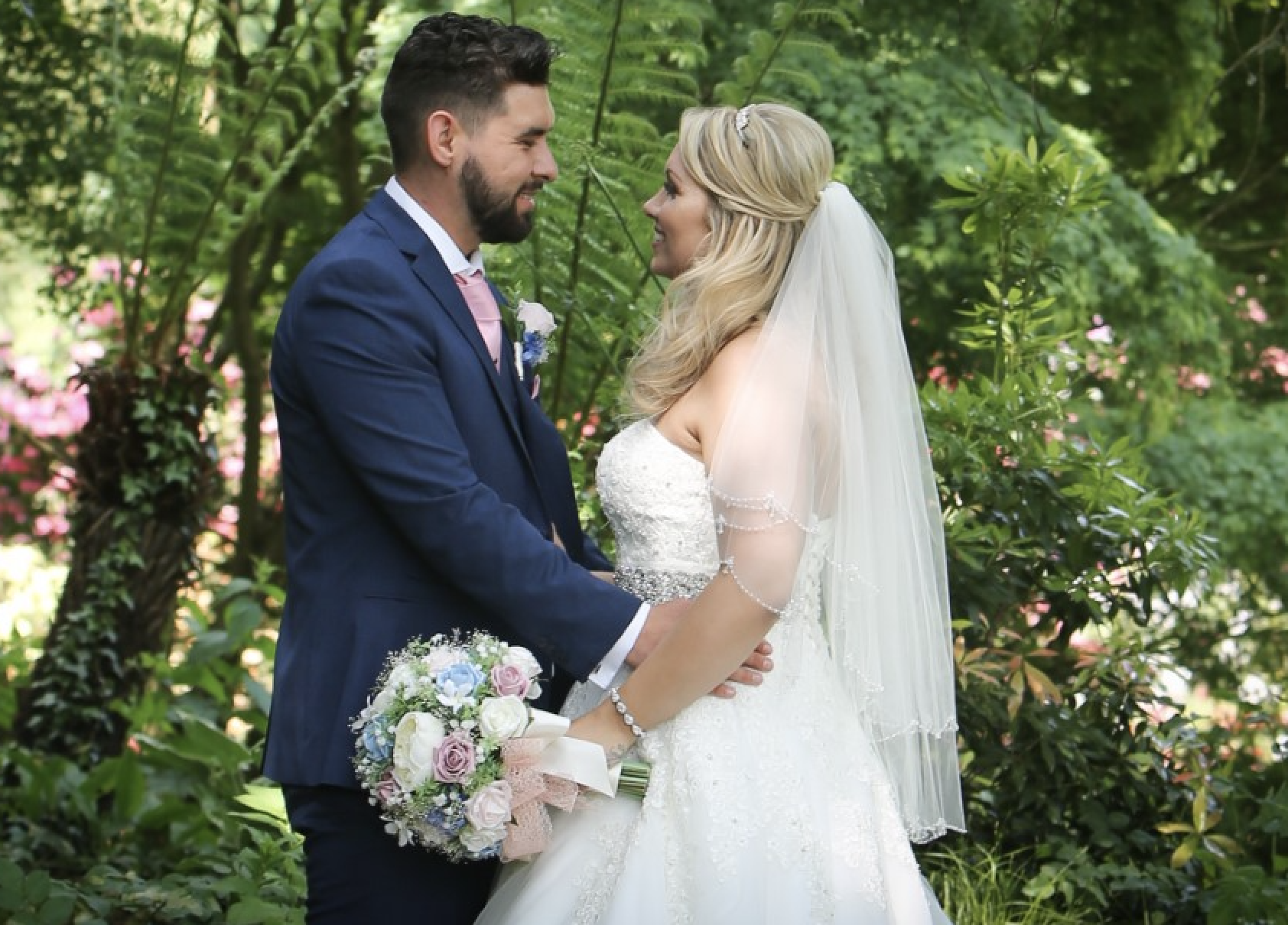 Silk Wedding Bouquets
Over 25 years of creating beautiful quality lifelike wedding flowers
The Floral Touch UK produce some of the most realistic silk wedding bouquets that you will find today, we offer superb quality, beautiful designs, realistic prices and a bespoke design service second to none. We can also air brush most flowers to match with your fabric/ribbon swatch if required.
We distribute our wedding flowers throughout the UK, Europe and most Overseas destinations.
Aubergine, Grey & Dusky Mauve Wedding Bouquet
Large Bouquet of dusky mauve peony, roses & rose buds, aubergine ranunculus, silver grey meadow flowers, grey anemones and light cream roses with beautiful realistic flocked eucalyptus, berries and fern sprays. - Handle wrapped in grey satin ribbon with illusion diamante wrap and grey & aubergine trails, can also be wrapped in many choices.
STYLE NO. BB422 - £69.99
approximate size 27cm diameter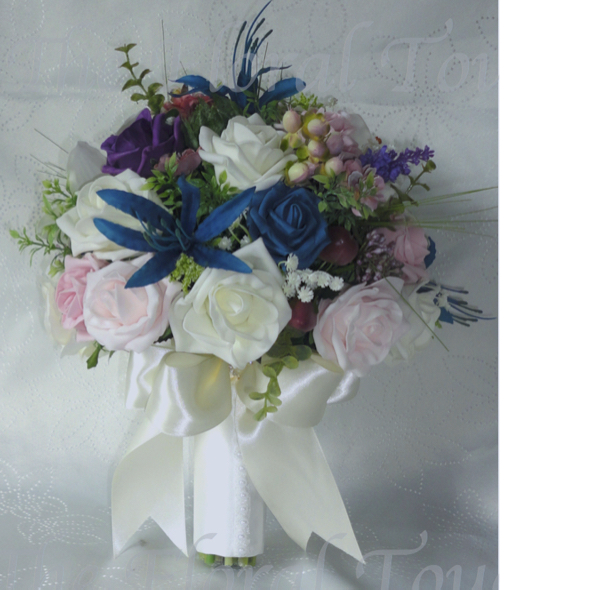 Blush, Pink,Teal, Plum Wedding Bouquet
A beautiful mix of plum, ivory, teal & blush pink roses, dusky pink blossom, teal nerines, plum allium, green queen anne lace flowers and ivory tiger lilies with a mix of realistic foliage form this natural just picked look wedding bouquet.Handle/stems wrapped in satin bridal wrap with pearl trim and beautiful bow or can be wrapped to your own choice.
STYLE NO. BB401 - £65.99
Red & White Real Touch Calla Lily & Crystal Gem Bouquet
Real touch lifelike calla lilies with alternating pearls & diamantes to centres of each calla lily and crystal gem sprays between the calla lilies - handle wrapped in satin ribbon with 4 rows of rhinestone diamantes, finished with bow and pearl and diamante brooch.
STYLE NO. BB431 - £74.99
Approximate Size: 26cm diameter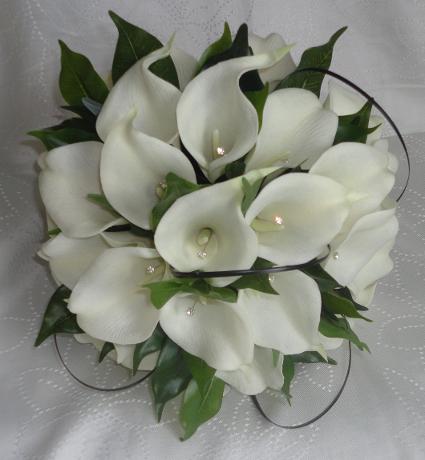 Real Touch Calla Lily Wedding Bouquet
Beautiful lifelike real touch calla lilies with real touch Fiscus leaf foliage and beargrass loops with diamante pins to centres of most callas - Handle wrapped in ivory (or own choice of colour) satin ribbon with stunning 4 row rhinestone diamante detail down handle
STYLE NO. BB341 - £59.99
Approximate Diameter 26cm - Wide choice of ribbon colours available
Real Touch Purple Calla Lily Bridal Bouquet
Simply elegant calla lily bridal bouquet, real touch purple calla lilies hand tied and bound with ivory satin ribbon and edged with silver braid and finished with large rhinestone diamante brooch to base.
STYLE NO. BB107 - £54.99
Approximate Diameter 26cm
Available in ivory, white, aqua, lemon, red, orange, light pink, aubergine, pale blue & royal blue
Pastel Blue & Blush Wedding Bouquet
Romantic bouquet of ivory & pale blue hydrangea with blush roses and real touch ivory calla lilies - stems/handle wrapped in ivory satin ribbon with organza & satin Bow and organza ribbon trails.
STYLE NO. BB340 - £49.99
approximately 25cm diameter - matching bridesmaids bouquet = £29.99
Peacock Feather Bridal Bouquet
Striking bouquet of ivory real touch calla lilies and peacock feathers with real touch foliage. Calla lilies have diamante pins to the centres - stems wrapped in ivory satin ribbon with diamante detail and finished with bow.
STYLE NO BB200 - £54.00
Coordinating bridesmaid overarm bouquet
Gold & Burgundy Bridal Bouquet
A very beautiful natural looking bouquet of Ivory Silk Calla Lilies and gold and ivory lifelike polyfoam roses with beautiful ivory peonies & Natural Looking Foliage - Stems wrapped in satin bridal wrap with pearl detailing. Please click on our Rose Logo for matching items.
STYLE NO. BB243 - £59.99
♥Available in many colour options and also available with clear gem sprays.
♥All other wedding flowers can be made to match.
You May Also Like
Ivory Rose Bridal Bouquet with Diamante and Pink Pearls
Lifelike polyfoam roses with diamante & pearls, beargrass loops & real touch fiscus leaves - Stems wrapped in satin ribbon with pearl pin detail.
STYLE NO. BB249 - £39.99

Bridesmaid Bouquet - BMB424 - £29.99
Royal Blue Satin Rose Bridal Bouquet
If you want something a little different why not opt for this stunninghandcrafted bridal bouquet - royal satin roses with diamantes and pearls to centres with brooches, embellishments and pearls - finished with royal satin ribbon and lace overlay with diamante trim.
STYLE NO. BB395 Large - £59.99 - 27cm diameter - 29cm height
Brooch Styles may vary but will be of equal beauty & value and you will be shown them beforehand.
Also available in white, ivory, pink, hot pink, peach, purple, lavender, lilac, turquoise, aqua, grey, burgundy - with choice of lace to underside and choice of silver or gold brooches and embellishments
Most of our wedding bouquets for the bride measure approximately 25/26cm in diameter unless otherwise stated - We can adjust the size if required please enquire as there maybe a difference in price (+ or -) .
IMPORTANT
Please be aware that colours may differ slightly on different screen types, If you require a true or as close as possible match, please supply us with a fabric sample.
Registered Business - 2008