Scottish/Thistle Design Buttonholes
Most Buttonholes can be made to co-ordinate with the colours & flower theme of your wedding - choose your design and we will coordinate it with the rest of your flowers.
Groom & Bestman buttonholes have a corsage brooch type pin attachment fitted or are supplied with a pearl headed pin dependant on the weight of the buttonhole. All Guest Buttonholes are supplied with a pearl headed pin as standard.
Scottish Design - Buttonholes - Page 9 of 11
Purple Thistle & Heather Groom Buttonhole - Stylish buttonhole with a purple thistle 3 heather sprays and 2 mini roses with foliage - stem wrapped in choice of ribbon colour.
STYLE NO. BUT26 - £6.99
Lavender Rose With Thistle & Brunia Berry - Lavender rose with purple eringium thistle, iced spruce and silver brunia berry - stem left natural wrapped in green floral tape.
STYLE NO. BUT395 - £6.99
Rose available in wide choice of colours - thistle available in dark blue or purple
Dark Purple/Plum Calla lily & Lavender Buttonhole - Purple calla lily and lavender spray buttonhole with lilac gyp, ivory rose bud and lavender parchment blossom flowers, bamboo loop & coil - stem wrapped in silver glitz ribbon or choice of colour
STYLE NO. BUT1020 - £7.99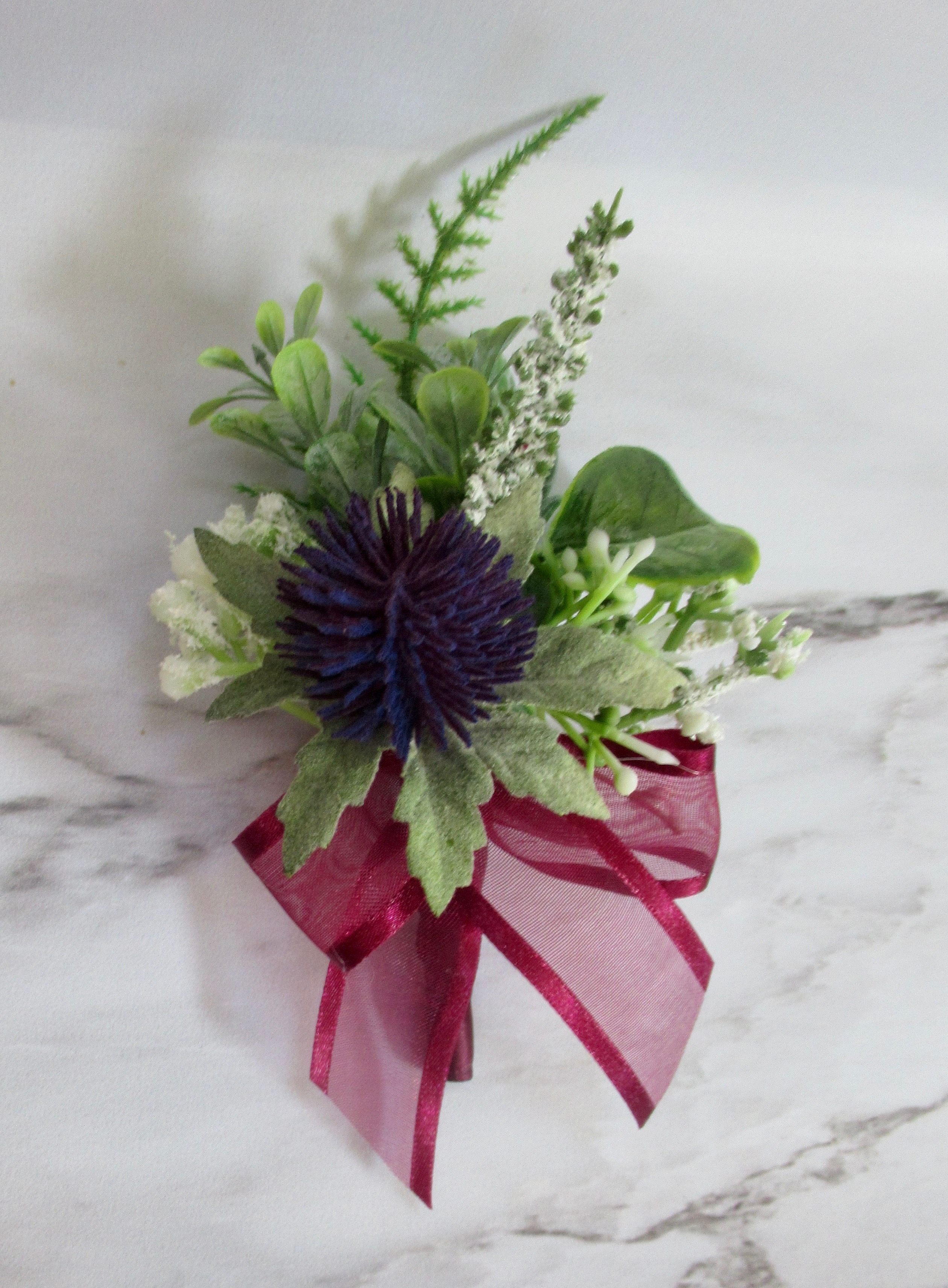 Thistle & Heather Buttonhole - Natural Green Eryngium thistle with heather, mini ivory roses and gyp with real touch variegated fiscus foliage.
STYLE NO. BUT20 - £6.99
Also available with purple or blue thistle and or purple heather
Rustic Style Purple Rose & Mixed Foliage Buttonhole
Purple polyfoam rose & fuchsia rose bud with berries, green snowball andgyp backed with foliage and finished with jute string.
STYLE NO. BUT1019 - £6.99
Eryngium Thistle Buttonhole with Lily Of The Valley
A lifelike eryngium thistle with a stem of lily of the valley and finished with navy blue & tartan ribbon (or own choice of colour available) - stem left natural but can be wrapped in twine, hessian or satin ribbon if preferred for an additional £0.50p
STYLE NO. BUT688 - £3.50
Traditional Scottish Buttonhole
Lovely lifelike buttonhole with heather, thistle and foliage set in a silver buttonhole dart with magnetic fitting with Royal Stewart tartan ribbon bow or Blackwatch Tartan or plain satin in choice of colour.
STYLE NO. BUT1010 - £9.99
Plain satin ribbon also available for bow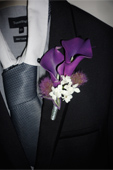 Double Calla Lily Buttonhole
Lifelike real touch Calla Lilies with Thistle & Stephanotis with diamantes to centres - stem wrapped in silver ribbon or choice of colour.
STYLE NO. BUT938 - £9.99
Stem wrapped in choice of colour ribbon
Thistle & Heather Buttonhole
Lovely traditional scottish design buttonhole with 8 heather sprays, thistles and ivy leaf foliage - finished with satin bow or tartan bow (Royal Stewart or Blackwatch)
STYLE NO. BUT832 - £9.99 or 2 for £18.00
wide choice of ribbon colour available
Ivory Rose Buttonhole
Ivory lifeloke polyfoam rose with sprig of thyme, anethum, trachelium and fern
STYLE NO. BUT910 - £4.50
Rose & Rose Bud Buttonhole with Wild Foliage
Ivory polyfoam roses with sprig of thyme, thistle, fern, trachelium and anethum with variegated leaves.
STYLE NO. BUT906 - £7.99
Double Ivory Rose Buttonhole
Lovely buttonhole of lifelike ivory polyfoam roses with trachelium and various foliage with green thistle.
STYLE NO. BUT906 - £5.99
Scottish Design - Buttonholes - Page 9 of 11