Wedding Corsages
Beautiful affordable corsages for the female wedding party
All Corsages can be made to co-ordinate with the colours & flower theme of your wedding and all corsages can also be made as a wristlet or bag corsage, please state whichever applies when placing your order as the fittings & prices differ.
All Corsages have a corsage pin supplied as standard. For larger corsages a corsage brooch style pin is fitted. If a magnet attachment is required there is an additional charge of £1.25 which will be added to the price of the corsage.
Pin On Corsage - Page 2 of 7
Red and Ivory Real Touch Calla Lily Corsage
Real touch ivory call lilies with polyfoam red rose bud, crystal gem embellishments and beargrass loop detail - Ivory organza bow to stem - Gorgeous.
STYLE NO. COR901 - £10.99
Rose Bud available in wide choice of colours - colour chart
Taupe & Ivory Rose Corsage
Pretty lifelike polyfoam roses with ivory lilac flowers, pearled beargrass and pearl spray curls. Taupe ribbon loops - Stem wrapped in taupe ribbon and finished with pearls to tip.
STYLE NO. COR1005 - £8.99
Wide choice of colours ribbon available
Ivory Calla Lily & Orchid Corsage
Elegant corsage of a real touch calla lily with silk dendrobium orchid with crystal spray & crystal gem leaf detail - with foliage and finished with grey satin ribbon corsage bow.
STYLE NO. COR40 - £9.99 - wide choice of ribbon colour available
DendrobiumOrchid also available in pink or purple.
Pale Pink & Blue Corsage
Pale pink & ivory rose corsage with pretty blue hydrangea, stephanotis and a blue diamante spray - finished with smallivory satin & organza corsage bow.
STYLE NO. COR49 - £5.99
Lemon Real Touch Calla lily Corsage
A real touch Calla lily with lemon hydrangea, ivory freesia and ivory rose with diamante to centre and gold pearls - stem wrapped in ivory ribbon with pearls to base and finished with ivory organza bow.
STYLE NO. COR1019 - £7.99
Beige & Cream Corsage
Stunning corsage of lifelike ivory polyfoam roses with diamantes to centre with ivory snowball, diamante sprays and pearls - finished with beautiful webbed ribbon to stem and bow in organza and webbed ribbon with a beautiful diamnte and pearl droplet embellishment to centre.
STYLE NO. COR911 - £14.99
Fuchsia Pink Real Touch Calla Lily Corsage & Black Feather Corsage
Beautiful fuchsia calla lily & rose bud corsage with crystals, black pearls and black leaf spray, black feather and trachelium finished with fuchsia & black looped corsage bow and stem wrapped in black with fuchsia pearl detail to base of stem.
STYLE NO. 1016 - £9.99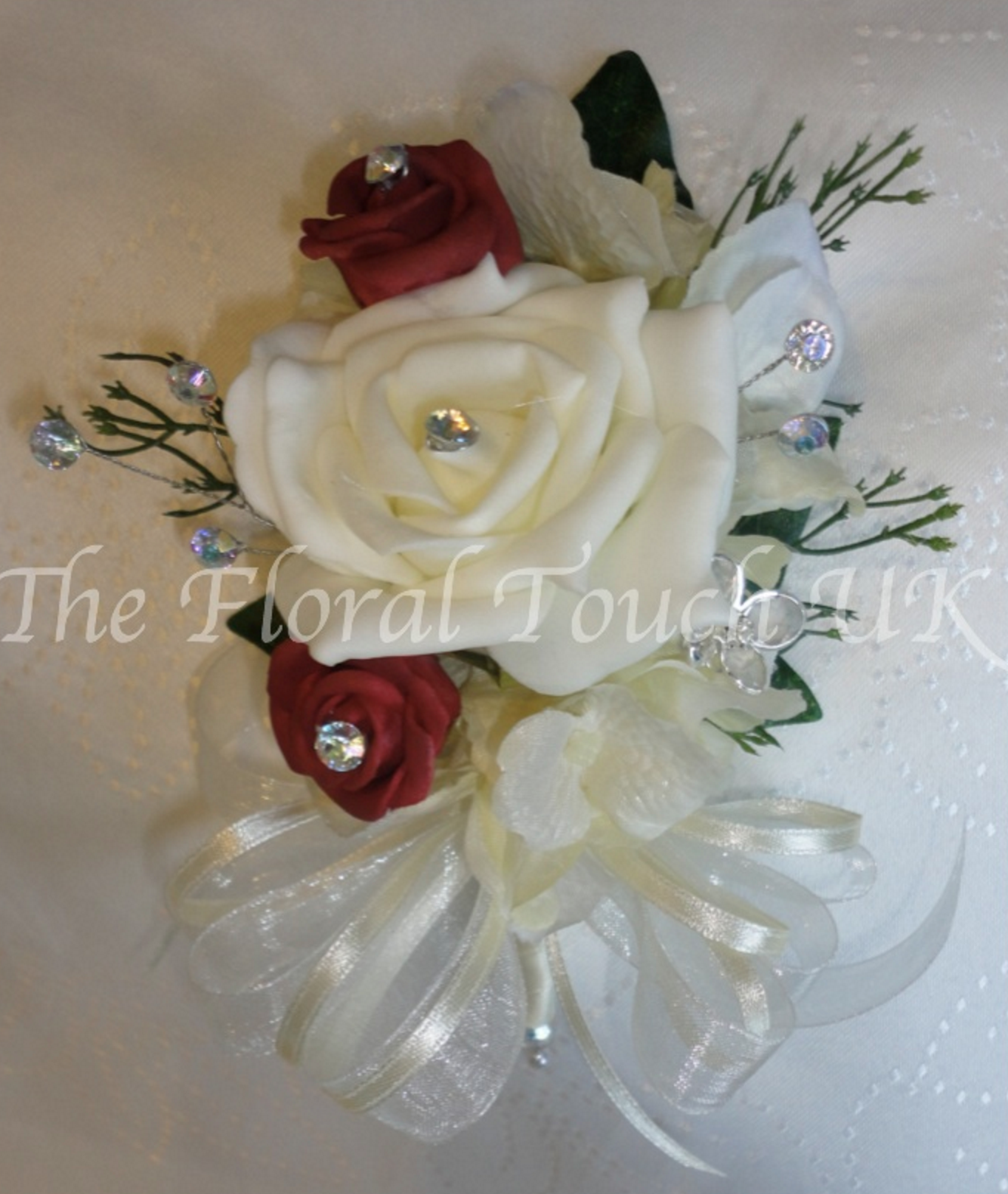 Burgundy & Ivory Rose Corsage With Crystals
Lovely lifelike Ivory roses with mini burgundy polyfoam roses with ivory hydrangea, crystal sprays & gem butterfly - asparagus leaf foliage and finished with ivory satin & organza bow - Gorgeous.
STYLE NO. COR950 - £10.99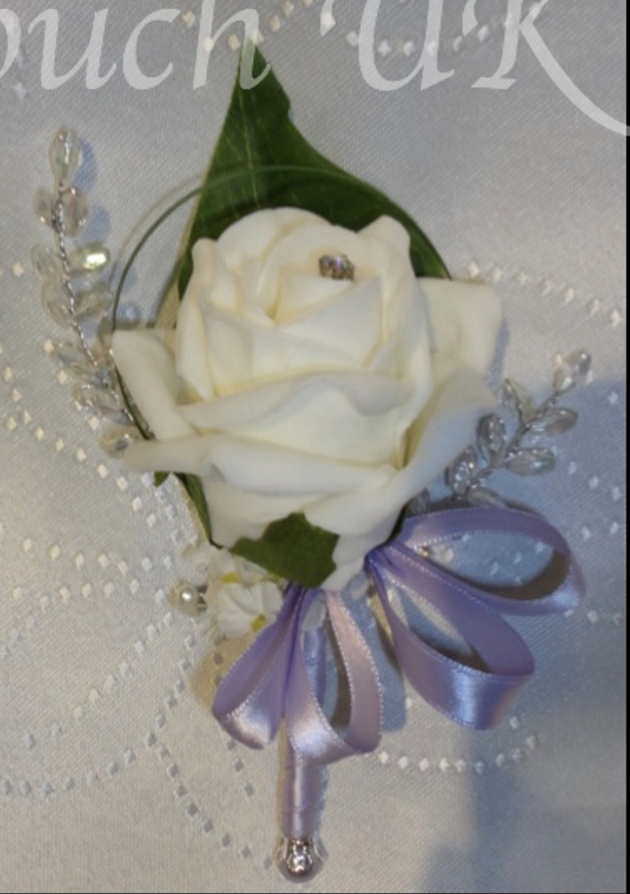 Ivory Rose & Lavender Gem Corsage
Pretty Mothers/Guests Corsage Lifelike polyfoam rose with diamante to centre, beargrass loop with irredescent gem sprays & bow many colours available
STYLE NO. COR927 - £6.99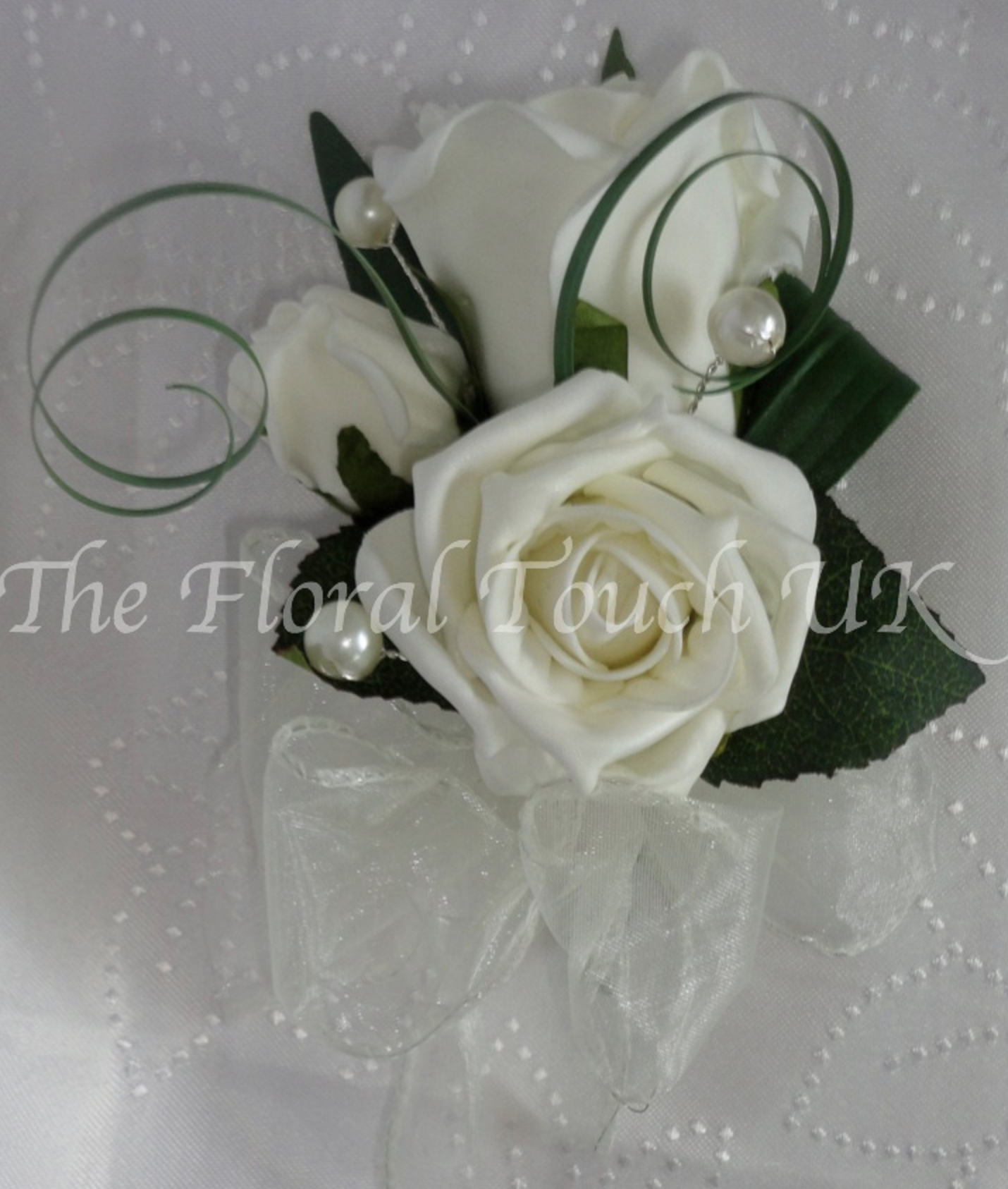 Ivory Rose & Pearl Corsage
Beautiful corsage of lifelike polyfoam roses with pearls & beargrass coils & organza bow
STYLE NO. COR938 - £8.99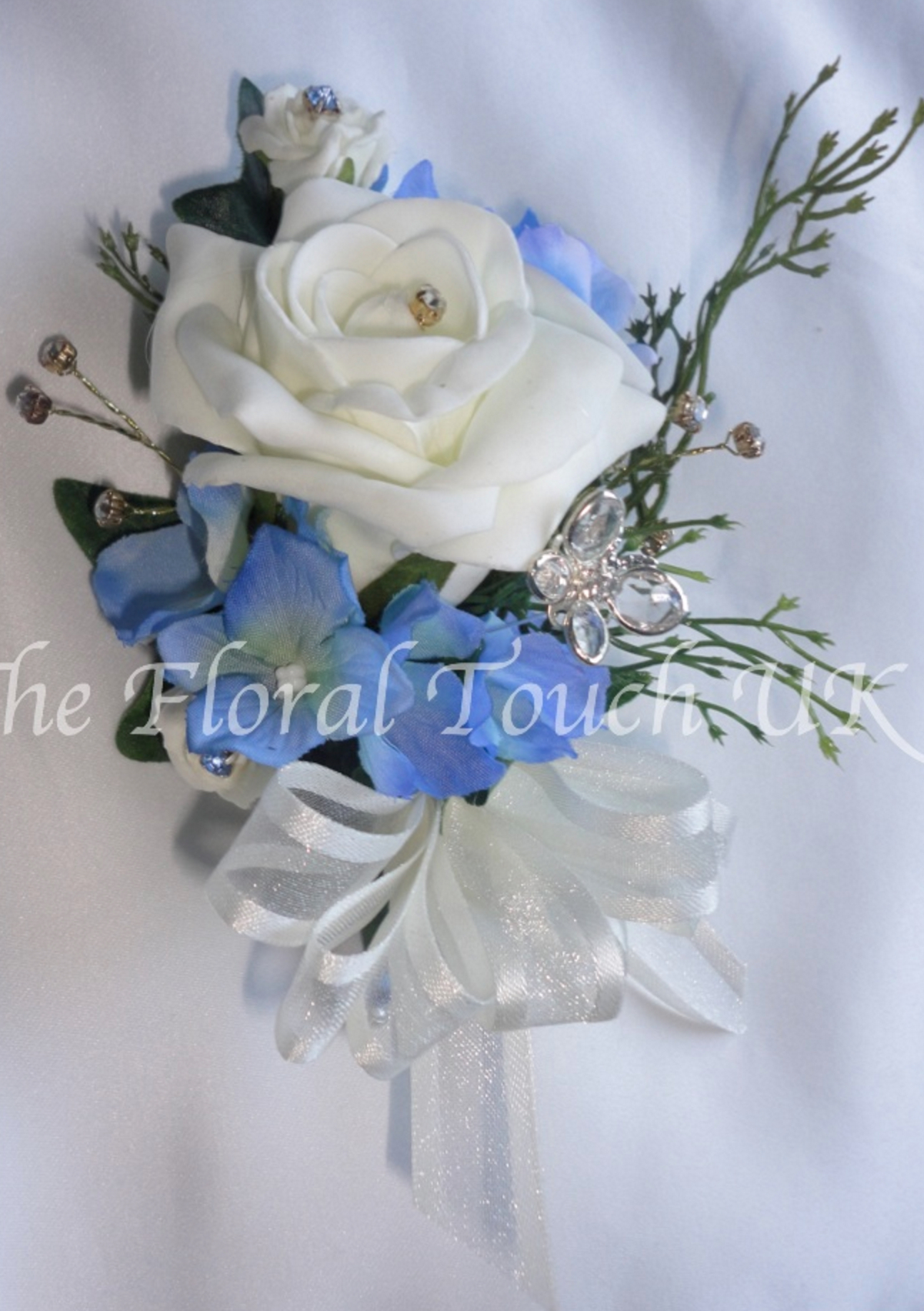 Rose & Hydrangea Corsage
IBeaytiful Corsage of an ivory lifelike rose and buds with blue diamante to centres & diamante butterfly with blue hydrangea & foliage
STYLE NO. COR921 - £9.99
Real Touch Lifelike Orchid Corsage
Cream real touch orchids with golden freesia & gold diamante sprays finished with a gold & Ivory ribbon looped bow.
STYLE NO. COR932 - £12.99

Designer Single Rose Corsage/Buttonhole
Single lifelike rose with wired leaves, beargrass shoots and gem spray - stem wrapped in black satin ribbon
STYLE NO. COR924 - £4.99
Ivory and 'Cadbury' Purple Rose Corsage
Ivory lifelike polyfoam roses with 'Cadbury' purple tiny roses with crystal beads, pearl sprays with real touch variegated fiscus leaf foliage and finished with satin & Organza bow colour to suit
STYLE NO. COR964 - £10.99
wide choice of colour tiny roses

Ivory Rose Corsage
Ivory Poly Foam Roses with tiny ivory roses, foliage & Pearls - Stem wrapped in Ivory Satin Ribbon - no bow
STYLE NO. COR965 - £9.99
Pin On Corsage - Page 2 of 7
Registered Business - 2008