Most of our bridesmaid bouquets can be made to your own colour choice and any of the styles can also be made into a larger size for the bride if required, please contact us for further details & prices.P
All adult bridesmaid bouquets measure approximately 20cm to 22cm unless otherwise stated this can be adjusted if required - price may vary.
Pale Pink, Pale Dusky Pink & Fuchsia Bridemaid Bouquet with periwinkle Hydrangea
Beautiful bouquet of high quality lifelike polyfoam roses with real crystal diamantes to centres of approximately 1/3 of roses with freeze dried real touch gypsophila, ivory & blue pearls and periwinkle blue hydrangea and trachelium foliage - handle wrapped in ivory satin ribbon or choice of colour and finished with a bow and pearl pin detail.
STYLE NO. BMB206 - £34.99
Many colour options available
Peony, Rose, Calla Lily & Freesia Bridesmaid Bouquet
Country garden style bridesmaid bouquet - a beautiful mix of silk Peonies, real touch Calla Lilies, lifelike polyfoam roses, silk Freesia and various foliage - Stems wrapped in ivory satin ribbon or raffia wide choice of colours available.
STYLE NO. BMB437 - £35.00
Pink Rose and Peony Bridesmaid Bouquet
Beautiful vintage style bridesmaid bouquet of lifelike ivory and pink roses with silk peonies - Stems wrapped in ivory satin with pink ballet style overlay and pearl pins with bow to finish - can also be wrapped in lace if preferred.
STYLE NO. BMB207 - £34.99 - 23cm - also suitable as a small bridal bouquet
Real Touch Calla Lily, Rose & Tulip Bridesmaid Posy
Real Touch Calla lilies, lifelike polyfoam roses and silk tulips with crystal type gem sprays and rhinestone crystal to centres of each rose - Stems wrapped in satin ribbon and finished with organza bow (please note the centres of our new calla lilies are now ivory not yellow).
STYLE BMB414 - £29.99
Orchid & Blue Rose Bridesmaid Bouquet
Dendrobium Orchids and pale blue silk roses with various foliage - Stems wrapped in blue rainbow taffeta ribbon with bow.
STYLE NO. BMB422 - £34.99
Ivory Hydrangea Bridesmaid Bouquet with Cadbury Purple
Beautiful feminine bridesmaid posy of silk Hydrangea with purple rhinestone sprays ans beargrass loops - Simply elegant - Stems wrapped in cadbury purple ribbon with bow.
STYLE NO. BMB420 - £27.99
Many colour options available for ribbons and rhinestones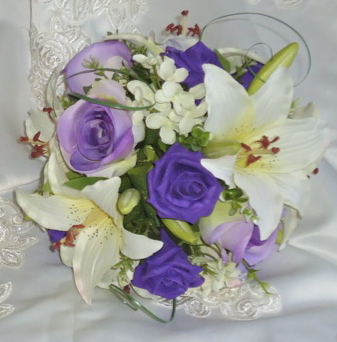 Rose and Tiger Lily Bridesmaid Bouquet
Gorgeous Bridemaid bouquet of cadbury polyfoam roses, lavender/lilac silk roses and ivory tiger lilies with ivory lavender and beargrass loops - Stems wrapped in ivory ribbon with pearl pins or diamante pins down handle.
STYLE NO. BMB411 - £32.99
Many colour options available
Blue and Ivory Bridesmaid Bouquet
Blue and ivory polyfoam roses with snowball, eucalyptus and trachelium filler - stems wrapped in pale blue ribbon with bow.
BMB458 - £28.99
Many colour options available