Wedding Flowers Design Choices

Today, bridal bouquets can be almost anything a bride wants them to be they can have many additions such as pearls, pearl wire, glitz wire, diamantes, rhinestones, beads, feathers.

They can be of a traditional design & shape or a specific chosen design & shape.
We at THE FLORAL TOUCH UK are very creative with our flowers, there are many options available we can even make your own ideas a reality.
Detailed below we offer a little assistance to help with your design choices.
HAND TIED BOUQUETS
The flower Stems are wired together and either wrapped with ribbon leaving part of the stems in view or wrapped with ribbon covering all the stems. There are also satin stem wraps that can be plain or decorative which wrap around the stems and is secured with a hidden velcro strip.
There are lots of decorative options available for addition to the ribbon around the stems ie. Wrapping beaded wire around or inserting pearl or diamante pins up the stems, twisting/criss-crossing a co-cordinating ribbon around the stems (please enquire for further details of options available).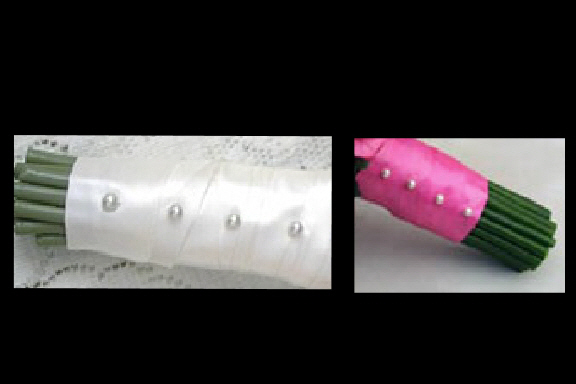 BOUQUET HOLDERS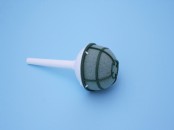 The flowers are inserted into floral foam which is encased in a cage and has a handle. These come in a variety of forms, standard white (all of our holder bouquets use the standard holder but decorative silver or gold are available at an additional cost. The handle is then wrapped in satin ribbon and can be decorated with beaded wire if required.
With these type of holders more extravagant bouquets can be created and they are easier and more comfortable to hold as the handle stays slim no matter how many flowers are used in your bouquet.
BOUQUET STYLES
Examples:-
Round: Large circular ball shaped bouquet usually using larger style flowers, hand tied or formed in a bouquet holder.
Posy: Small or medium in size and round in shape and flowers can be formed tightly or loosely with a graduating raise to centre, hand tied with ribbon or formed in bouquet holder.
Nosegay: As posy but relatively smaller and simpler and usually incorporates more greenery and less flowers.
Shower: The most traditional and formal of bouquets, a waterfall like spill of flowers with a cascade of variable length.
Teardrop: Very similar in shape to a shower but flowers are more compact and tightly formed, Roses are the ideal flower to use in this design.
Crescent: Curved in shape with each end of the curve forming a downward facing cascade of variable length depending on your requirements.
Over Arm: Long stems, like Calla Lilies, Orchids and also long-stemmed Roses are best used in this bouquet. The flowers stems are usually tied with ribbon and a bow and bunched together forming a point (leaf shaped). The way to carry this type of bouquet is to cradle it on your arm, at the inner of your elbow.
CHOOSING YOUR BOUQUET
The shape of the brides dress plays an important part in choosing a suitable bouquet.
A slim-line dress works well with a slim structured bouquet, narrow trailing flowers, small slim crescent shaped (ideally suited to the smaller bride) or a small cascading posy or even a single or small bunch of long stem hand tied flowers.
A full-skirted or A-line gown is flattered by a round bouquet, large posy or a shower bouquet. A large full crescent shaped bouquet also goes really well with a full skirt.
If you have opted for a simple elegant dress you could set it off with either an informally arranged bouquet or a dramatic display with heavy foliage and fewer flowers.
Colours should co-ordinate with the wedding gown & have a hint of the colour of the bridesmaid dresses although dark foliage and cream/white flowers also look beautiful if no colour is preferred.
If opting for a trailing or cascading bouquet, the brides height needs to be taken into consideration - the average length (tip of bouquet to base of cascade) of a cascading bouquet is between 45cm to 50 cm - please let us know your preferred length if different to this.
CHOOSING YOUR BRIDESMAIDS FLOWERS
The bridesmaids bouquets should co-ordinate with or simpy be smaller and less dramatic than the brides bouquet, there are a multitude of choices.
Young bridesmaids/Flower Girls - posy, nosegay, wand, wristlet, single hand tied flower, hoop, basket, pomander (kissing ball), horseshoe, crook (cane).
Adult bridesmaids - posy, nosegay, wristlet, waist corsage, single hand tied flower, over the arm bouquet, smaller version of the brides bouquet.
The wand is proving to be the perfect choice for the smaller bridesmaids (more sparkles the better) as they do not seem to want to let go, therefore no missing posy left laying around - also the wristlet is ideal for very small bridesmaids.
CORSAGES & WRISTLETS
Corsages are usually supplied to the brides mother & the grooms mother & special Guests. They consist of a number of flowers which co-ordinate with their outfits or the brides bouquet, they are usually worn on the right side with flowers facing downwards.
When ordering a corsage consider if the fabric and style of the dress is appropriate for a pinned on corsage. If the dress is strapless or made of sheer, satin or silk fabric a wrist corsage or bag corsage may be a better alternative.
If you really would like a corsage on your delicate outfit then request a corsage magnet, one magnet is attached to the corsage and the other goes on the underside of your dress therefore no pins.
Wrist corsages can be attached to specially designed floral bracelets which are available in many stylish designs which are available in a choice of colours or simply a wide elastic band or just simply tied around your wrist with a pretty ribbon.
BUTTONHOLES
The buttonhole (boutonniere) is traditionally worn in the buttonhole on the left lapel of a man's tuxedo or suit jacket and pinned in place at the back of the lapel the flowers face upwards. In some circumstances where the stem of the buttonhole is decorated a simple large pin can hold it in place so that the stem is visible.
The grooms buttonhole should be distinct from that of his best man. Often in the theme of the brides bouquet and usually using either one or two main flowers and being slightly more decorative than the best mans.
The best mans buttonhole should be similar to grooms using just one flower and slightly decorative.
The other men in the wedding party should have a similar buttonhole either in the same colour or flower of the best man and more simplified. Usually a single Rose, Calla Lily or Carnation is suffice.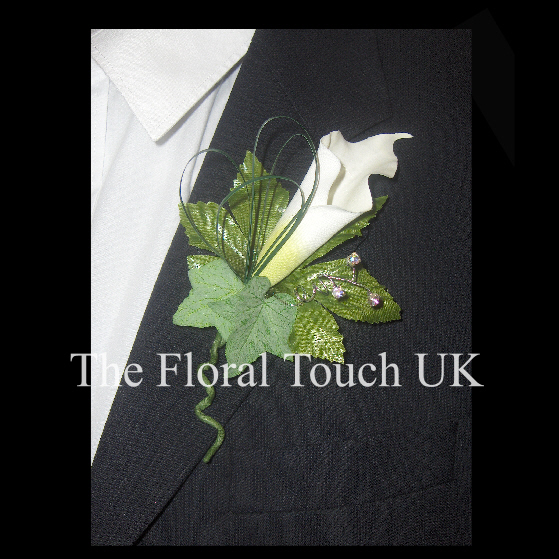 TABLE ARRANGEMENTS
The top table usually consist of one large oval (stretched diamond) shaped central arrangement placed on the front edge of the bride & groom table, which can have a front edge that cascades down the front of the table, if the top table seats over 8 people then one smaller version spaced out equally at either side of the central arrangement may be required, these can be a posy type or small oval shaped.
Another idea to save money is to use the ceremony flowers at the reception, or put your bouquets on the top table as decorations.
The guest table centrepieces have many forms. When choosing try not to opt for an arrangement that is taller than 14" as guests may have to peer through the arrangement to talk with other guests across the table. If your arrangement is on a pedestal, candelabra or in vase ensure that the height of the chosen base is over 20" high.
GIFTS
For the guests who have helped make your day special, Silk Arrangements are an ideal keepsake.