STUNNING ARTIFICIAL TROPICAL CAKE FLOWERS
For Weddings & Special Occasions
Professional Friendly Service
Quality Artificial Flowers
All our cake flower Designs can be created in a wide choice of flowers & colours
If you cannot see what you are looking for we offer a custom made service at an affordable price
Plumeria/Frangipani Cake Topper & Side Spray
Beautiful artificial frangipanis with real touch fiscus leaves, beargrass and palm leaf foliage
STYLE NO. CAKE52 - £16.99
includes x 3 loose Frangipanis as pictured
Tropical Cake Flowers
A beautiful array of tropical colours & flowers including orchids, gerberas, roses, freesia with beargrass loops. The topper having a small cascade that trails down the side of the cake & the centre part is a floral wreath
STYLE NO. CAKE32
Cake Topper with Small Cascade - £17.99
Cake Wreath - £19.99 - fits around a 6" cake
Cake Side Tier Spray - £6.99 Cake Base Tier Spray - £10.99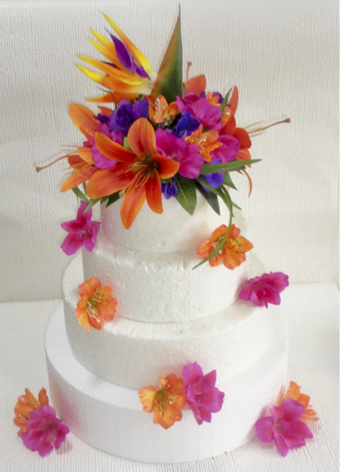 Tropical Bird of paradise Cake Topper
with Tiger lilies, freesia, alstroemeria and foliage
STYLE NO. CAKE41 - £28.99 fits 6 to 8 inch cake tier
Single Alstroemeria for cake tiers - 95p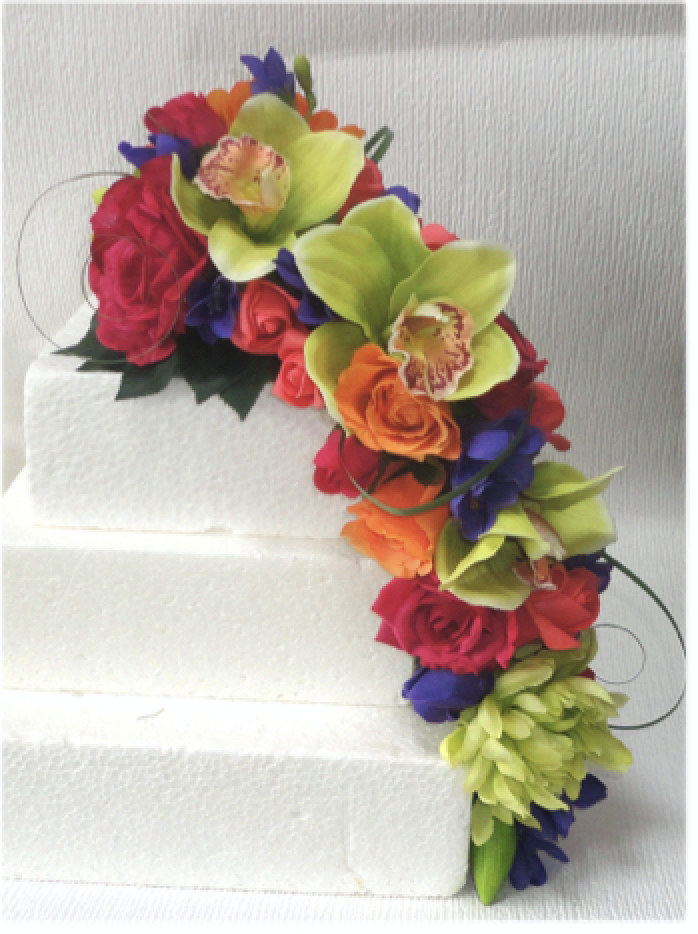 Tropical Orange, Lime, Pink and Purple Cascading Cake Topper
A beautiful tropical avalanche cake topper consisting of bright pink roses and buds, purple freesia, orange gerbera and orange roses. coral rose buds and lime orchids and chrysanthemum with curled beargrass.
CAKE02 - £39.99 fits 3 tier cake
Can be made longer/shorter to suit cake size
Many flower & colour options available
Real Touch Cream Orchid Trailing Cake Topper - Stunning trailing cake topper created using real touch extremely lifelike orchids and silk honeysuckle.
Also available with pink or aubergine orchids
STYLE NO. CAKE28 - £39.99
Also available in medium pink and blush pink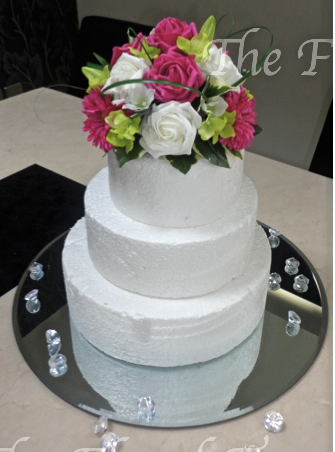 Fuchsia, Ivory & Lime Cake Topper
Beautiful cake topper of fuchsia and ivory lifelike polyfoam roses with lime hydrangea, fuchsia mini gerbera, buds & beargrass loops with acrylic diamante to centre of roses.
STYLE NO. CAKE30 - £22.99 - fits 6" - 8" tier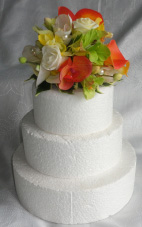 Tropical Cake Topper
Gorgeous lifelike cake topper consisting of orange orchids & calla lilies, lime orchids, ivory roses and lemon freesia with pearls.
STYLE NO. CAKE06 - £24.99
♥ Many colour options available
Tropical Bird of Paradise Cake Topper & Tier Sprays
Tropical cake flowers with bird of paradise, orchids, ranunculus, alstromeria and palm leaf foliage
STYLE NO. CAKE86 - Full Set - £39.99
Topper - £14.99
Middle Tier Spray - £16.99
Bottom Spray - £12.50
Orange Tiger Lily Tropical Cake Topper
Orange tiger lilies with purple anemones and orange alstroemeria with a flame tipped succulent and bamboo leaf foliage
CAKE94 - £24.99
Orange, White & Yellow Freesia Cake Topper and Side Spray
STYLE NO. CAKE 54 - £21.99
Also available in purple & lavender