STUNNING CAKE FLOWERS
For Weddings & Special Occasions
All our wedding flower Designs can be created in a wide choice of flowers & colours - Please Enquire - Bespoke Service Available
Cake Toppers - Page 1 of 2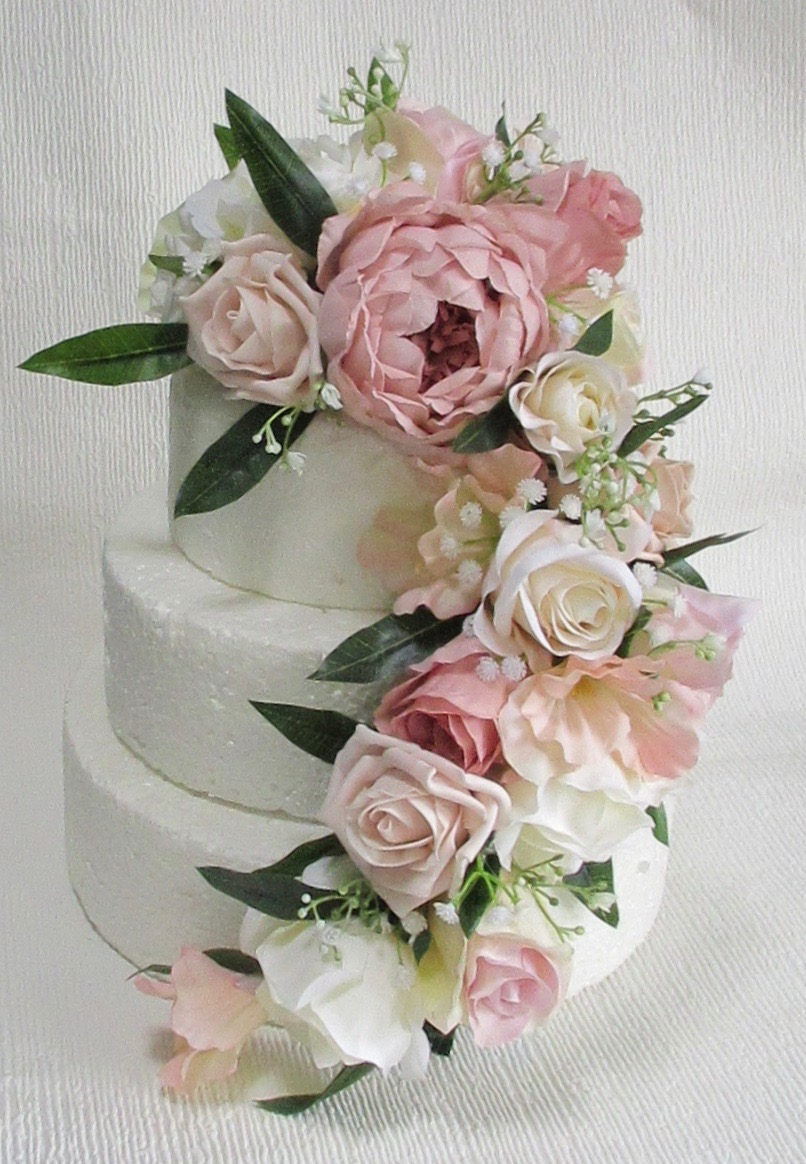 Dusky Pink, Blush & Ivory Cascading Rose & Peony Cake Topper
STYLE NO. CAKE49 - £34.99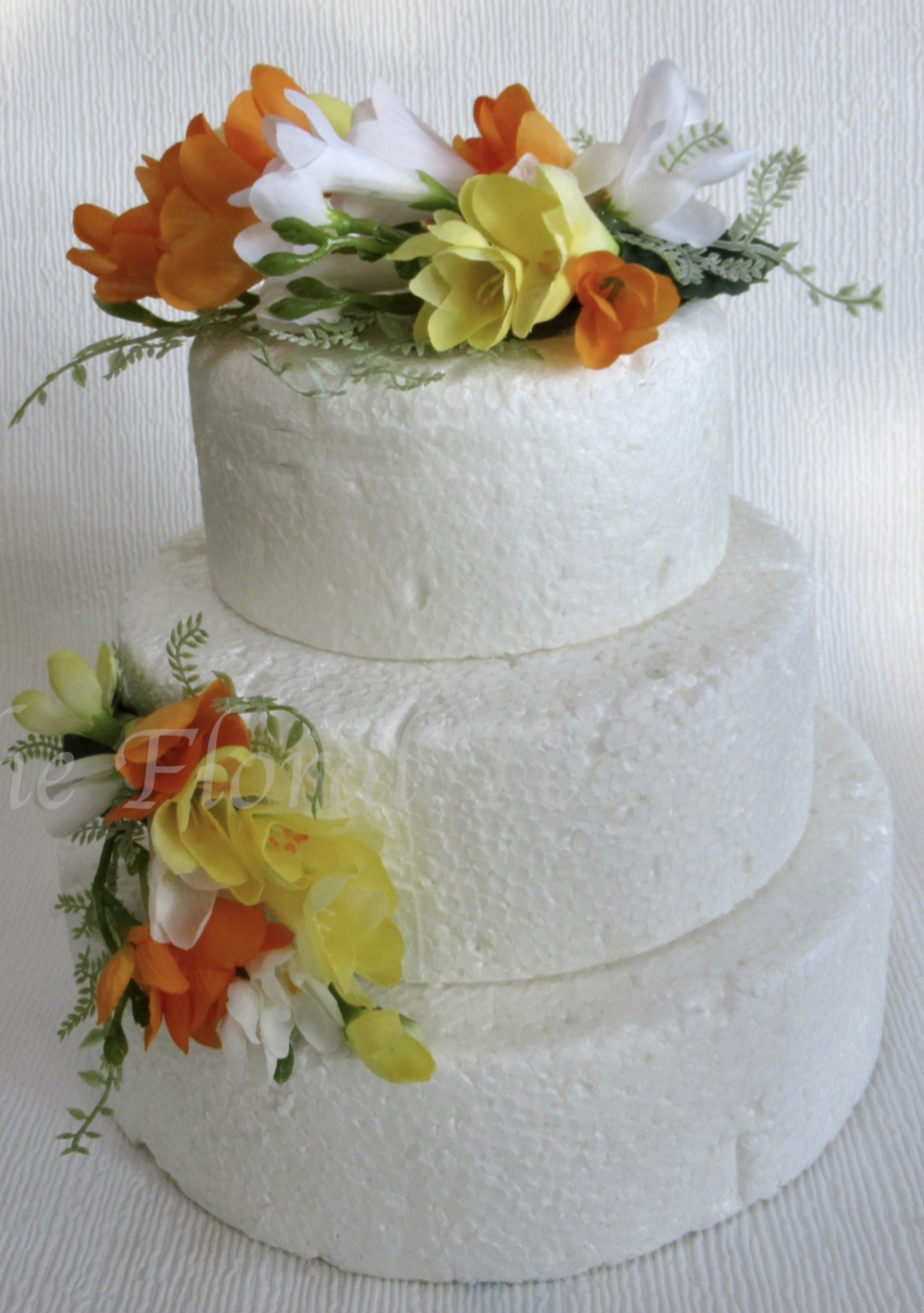 Orange, White & Yellow Freesia Cake Topper and Side Spray
STYLE NO. CAKE 54 - £19.99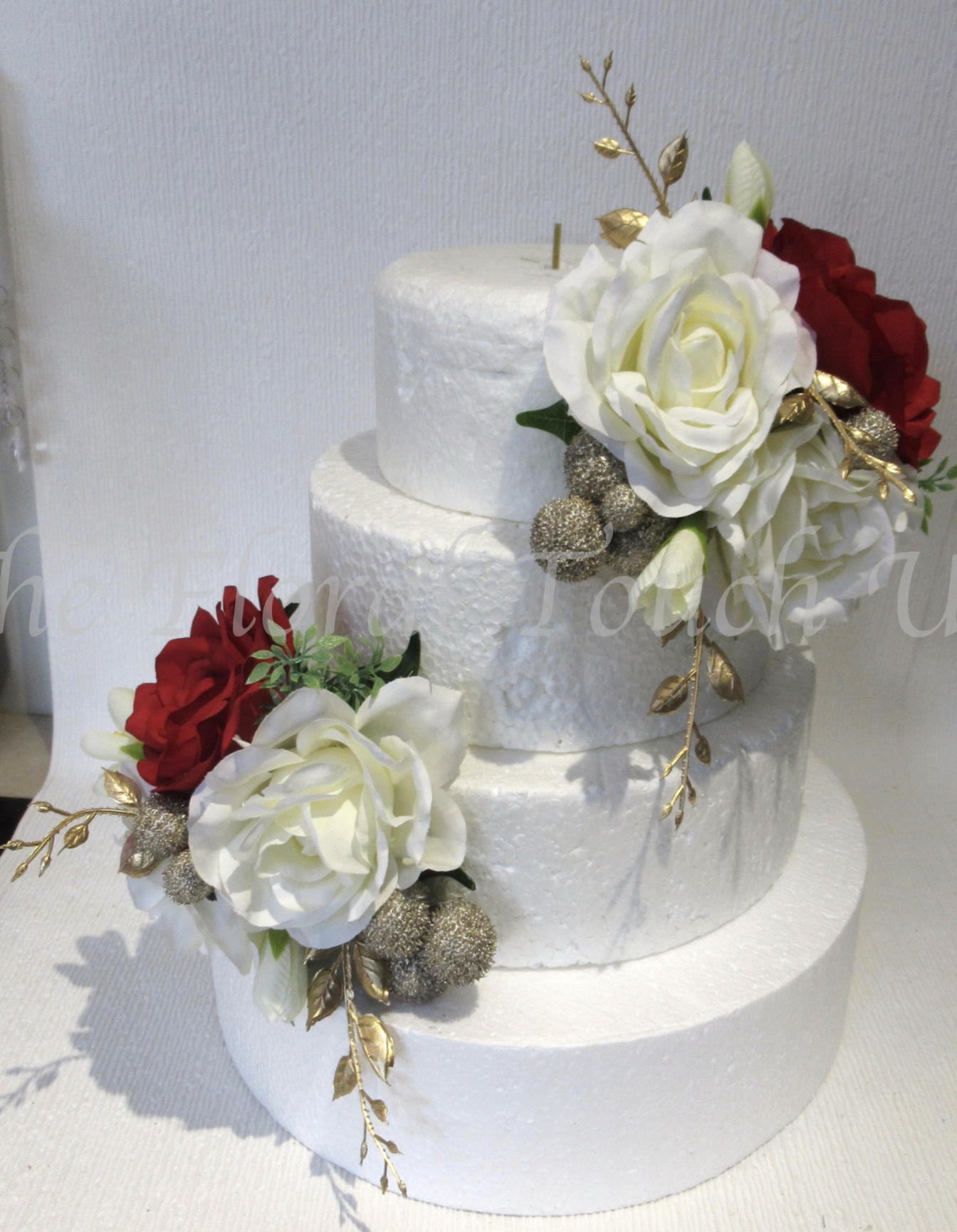 Gold , Red & Ivory Cake Flowers
STYLE NO.CAKE55 - £34.99
Blue, Ivory & Lemon Rose, Delphinium, Hydrangea Cake Flowers
STYLE NO. CAKE22 - Many colour options available
Cake Topper - £23.99
Side Tier Sprays - £12.99 each
Bottom Tier Spray - £7.00 each
Matching Wreath Centrepiece - Including battery operated wax coated candle - £32.99
Simply Elegant Ivory Rose Cake Topper
STYLE NO. CAKE29
Topper - £13.99
Single rose with pearled beargrass for tiers - £3.50 each
Also available in heather, red, blush pink, pale dusky pink, peach, blush peach, plum or wine
Real Touch Calla Lily Cake Topper - Lovely contemporary spray of real touch calla lilies with eucalyptus, beargrass and various foliage.
STYLE NO. CAKE36 - £16.00 - Shown on a cm cake dummy
Calla lilies available in choice of colour - Order/Enquiry Form
Golden Wedding Anniversary Cake Topper - Beautiful Ivory roses with gold buds, gold & ivory pearls, gypsophila and gold beargrass and gold sparkle leaf spray with gold & ivory ribbon.
STYLE NO.CAKE45 - £14.50 - Shown on a cm cake dummy
Fresh Touch Red Rose Cake Flowers - Stunning fresh touch roses so lifelike you wont believe they are artificial - they look real, feel real and smell real.
STYLE NO. CAKE 35 - available in other colours please enquire
Cake Topper - £16.00
Cake Side Sprays - £13.00 each
Blue & Ivory Raised Cake Topper - Stunning cake topper and side sprays - The cake topper stands upright on a bamboo pick that is inserted into the cake, created using ivory tiger lilies, roses and hydrangea with blue cornflowers and blue delphinium and vine leaf foliage with a leaf spray cascade.
STYLE NO. CAKE31
Cake Topper - fits 6" to 8"top tier - £25.00
Small side tier spray - £3.50
Base Spray - £10.50
Available in many colour options - Order/Enquiry Form
Tropical Cake Flowers - Tropical theme cake flowers a beautiful array of tropical colours and flowers including orchids, gerberas, roses, freesia with beargrass loops. The topper having a small cascade that falls down the side of the cake and the centre part being a floral wreath.
STYLE NO. CAKE32
Cake Cascade Topper - £17.99
Cake Wreath - £19.99
Cake Side Tier Spray - £6.99
Cake Base Tier Spray - £12.99
Many colour & flower options available - Order/Enquiry Form
Red Rose & Thistle Cake Topper - A lovely cake topper of red silk prize roses and thistles with trachelium, beargrass and lovely realistic flocked foliage.
STYLE NO. CAKE33 - £16.99
Rose available in many colour options - Order/Enquiry Form
Country Woodland Cake Topper and Cake Wreaths - Cake topper and floral wreaths of Ivory, purple and lilac mini roses with silver twigs and foliage sprays, pale silvery sage green flocked foliage and freeze dried gypsophila.
STYLE NO. CAKE38 - Order/Enquiry Form
Topper £9.99
Cake Wreaths - 8"diameter £16.00
12"diameter = £22.00
Many colour options available - Colour Chart
Vintage Rose Cake Topper & Small Tier Spray - Dusky mauve & dusky pink cake topper with large roses, rose buds and wild rose sprays, trachelium and leaf sprays with pearl detail.
STYLE NO. CAKE46 - £16.50
Cake Toppers - page 1 of 2