Wands For Flower Girls
Treat your little bridesmaids to one of our beautiful quality wands
Wands are a very popular choice for the smaller bridesmaids, they can be created to match with the adult bridesmaid posy and are available in a variety of styles, from glitter hearts, stars and butterflies, acrylic crystal butterflies to single flower stems.
Why not give your little flower girls a wand to carry on your wedding day, they will love them.
Silver Glitter Heart Wand With Vintage Dusky Roses
Silver glitter heart wand set with vintage dusky lavender, dusky pink and cream with hint of pink roses with pearl shoots and finished with ivory organza & satin looped bows to underside - handle wrapped in ivory satin ribbon.
STYLE NO. WAND09 - £17.99
Pink & Ivory Vintage Style Flower Girl Wand
Stunning flower girl wand of vintage pink/ivory roses with pink polyfoam rose and ivory snowball - organza loop detail and handle wrapped in pik satin ribbon with pink & ivory streamers.
STYLE NO. WAND34 - £17.99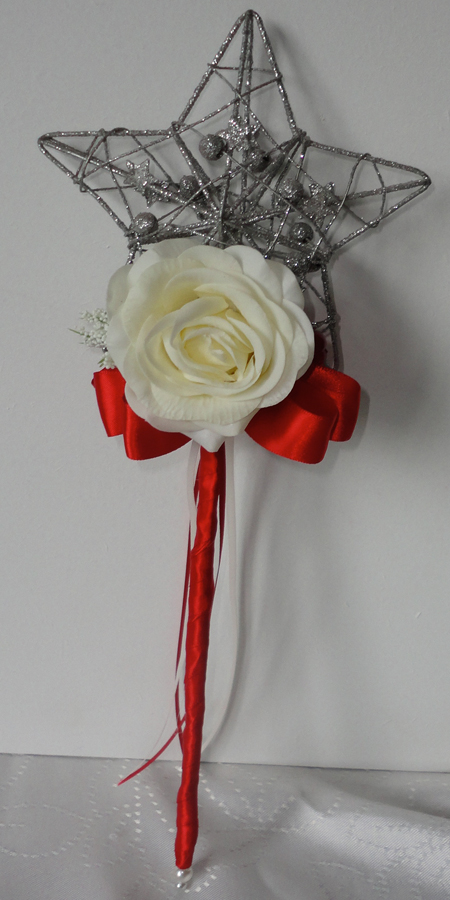 Fresh Touch Ivory Rose Glitter Star Wand
Glitter Star Flower girl wand with new state of the art fresh touch rose - finished with red satin ribbon bow and handle and ivory & red streamers (wide choice of colour ribbon available).
STYLE NO. WAND39 - £15.99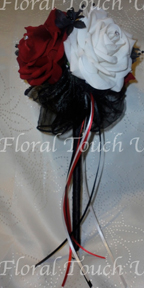 Red White & Black Flower Girl Wand
Red and white velvet roses with diamante to centre with black pearled gyp, black looped organza bow to underside with black, white and red streamers and black satin ribbon wrapped handle.
STYLE NO. WAND28 - £14.99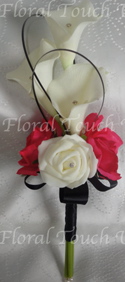 Calla Lily & Rose Wand
Real Touch Calla Lilies, silk and polyfoam roses with diamantes to centres with black beargrass loops - black satin ribbon loops to underside.
STYLE NO. WAND27 - £18.99
♥ Many colour options available
Lifelike Calla Lilly Wand
Real Touch latex calla lilies with looped Beargrass & Black Pearl Sprays - black satin ribbon to stems/handle and finished with organza bow and black & white streamers
STYLE NO. WAND29 - £12.99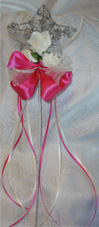 Silver Glitter StarFlower Girl Wand
Glitter Star wand with a cluster of 3 poyfoam roses with feathers - with organza and satin bow in choice of colour with streamers - stem wrapped in satin ribbon.
STYLE NO. WAND20 - £14.99
Rustic Style Calla Lily & Rose Wand
Flower Girl wand in rustic styling with lifelike real touch calla lilies and polyfoam roses with snowball, trachelium, hypericum berries and fern sprays - looped leaf detail and finished with satin bow with organza streamers - handle wrapped in ivory satin with rust kriss kross style satin ribbon overlay (choice of colour ribbon available)
STYLE NO. WAND05 - £19.99