Telephone ~ 07534259800 - Monday - Friday - 10:00am - 5:30pm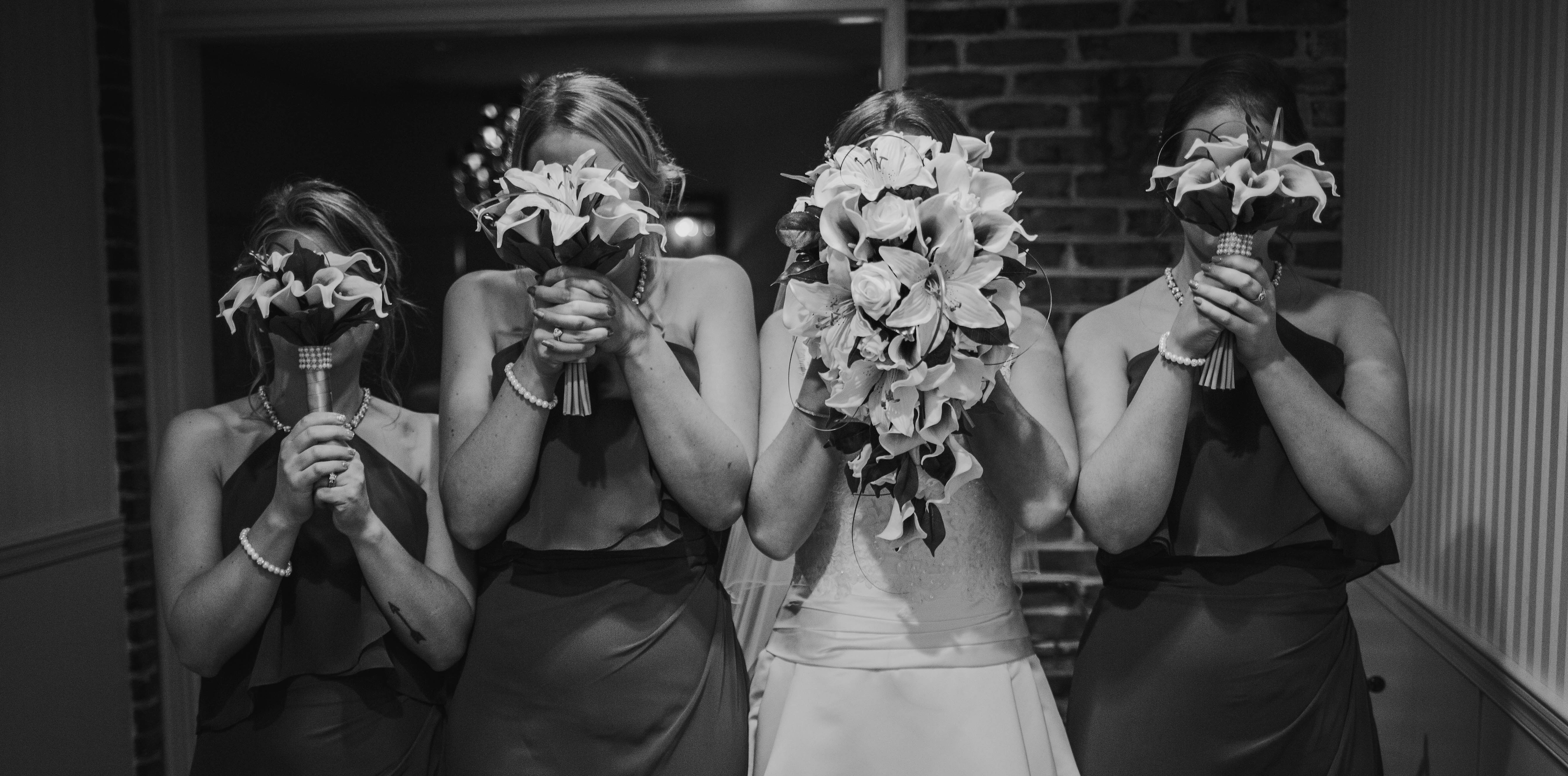 SILK WEDDING BOUQUETS

Beautiful quality, beautiful designs, affordable prices, made to order
We at the Floral Touch UK love what we do, we work hard to make your dream bouquet a reality and enjoy every minute of it. We keep you up to date with the process and send you photographs of bespoke/custom made designs before we dispatch your order so that you can be assured all is as you wish
♥︎ All other wedding flowers can be made to match with your chosen bouquet so everything will coordinate perfectly ♥︎
Teal, Silver & Ivory Bridal Bouquet
Stunning bouquet of lifelike polyfoam roses in teal, silver and Ivory with gypsophila, silver berry sprays, silver brunia berries and folded real touch grey long leaf eucalyptus - handle wrapped in ivory satin ribbon with organza streamers/tails
STYLE NO. BB07 - £65.00
All wedding flowers can be made to match this bouquet
Aubergine, Dusky Mauve & Purple Bridal Bouquet
Dusky Mauve & aubergine peonies with dark purple, pale pink and ivory lifelike polyfoam roses with dark purple sweet pea and natural green brunia berries & queen anne lace flowers and small amount of foliage - handle wrapped in ivory ribbon (or choice of colour) with diamante & pearl trim.
STYLE NO. BB417 - £54.99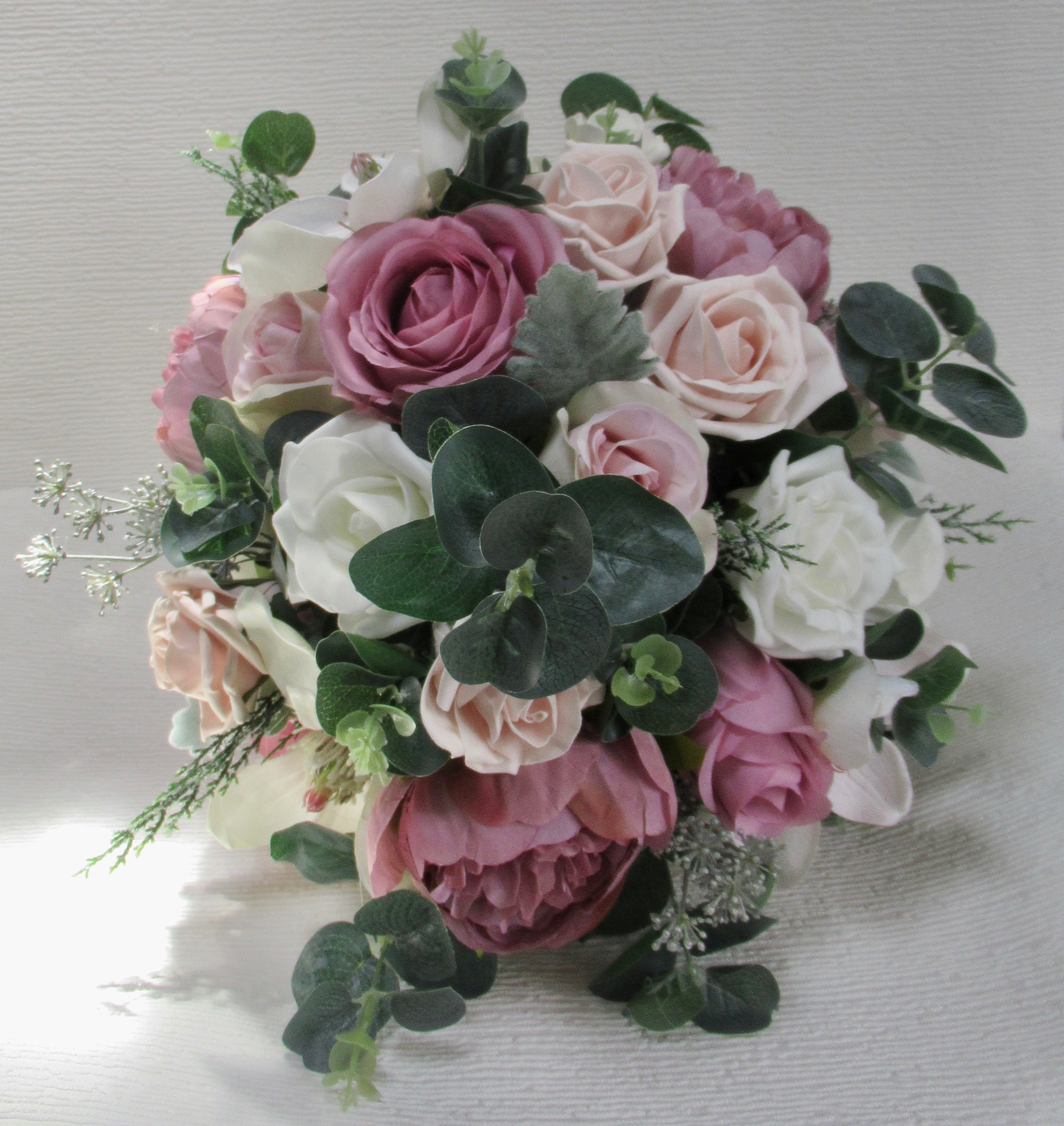 Deep Dusky Pink, Blush & Ivory Bridal Bouquet
Modern natural bridal bouquet consisting of deep dusky pink roses & peonies, ivory & blush roses with grey/green tiny berry sprays, fern sprays and grey/green eucalyptus - Handle wrapped in twine with lace overlay
STYLE NO. BB453 - £75.00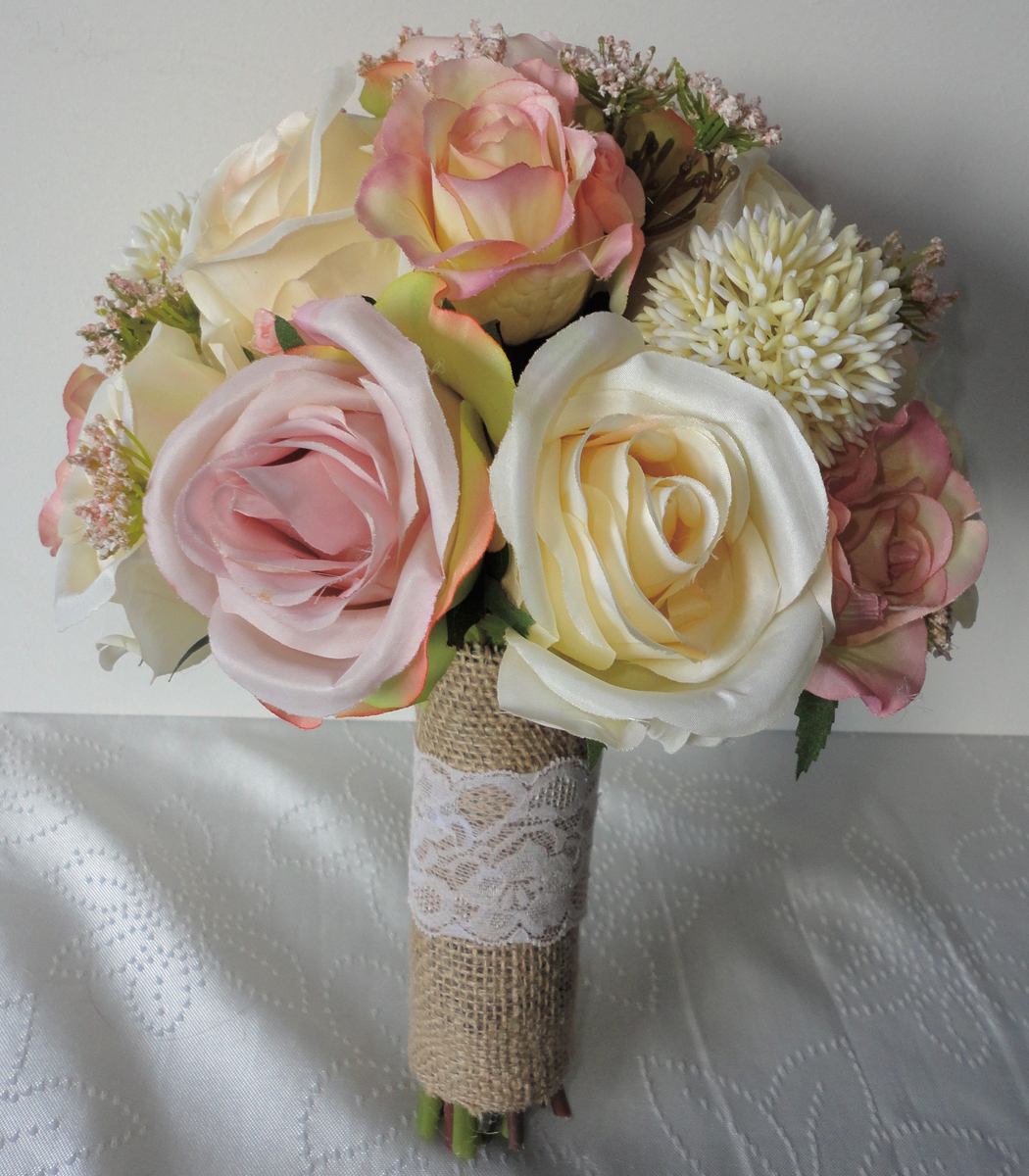 Rustic Vintage Style Bridal Bouquet
Beautiful bridal bouquet with a rustic charm - cream, dusky pink, and vintage pink/cream roses with pink 'queen anne lace' flower and - stems/handle wrapped in hessian with lace overlay to give a feminine finish.
STYLE NO. BB376 - £39.99
Approximate size 24cm diameter
Large Bridal Bouquet - £49.99 - 26cm/10"
Adult Bridesmaid Posy - £29.99 - 20cm/21cm
Flower Girl Posy - £19.99 - 17cm/18cm - Buttonholes from £3.99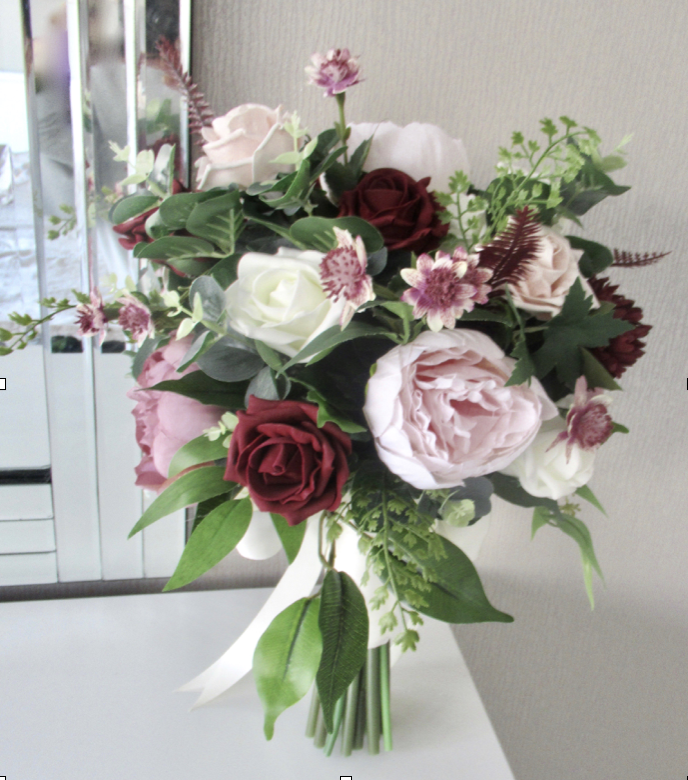 Burgundy, Blush, baby Pink, Dusky Pink & Ivory Peony & Rose Bouquet
Stunning Lifelike Bridal Bouquet consisting of dusky pink & baby pink peonies with burgundy, blush & ivory roses, dusky pink Astrantia and burgundy fern leaf sprays. Real touch maidenhair fern, eucalyptus & Fiscus leaf foliage - Hand tied and finished with satin ribbon & bow.
STYLE NO. BB454 - £75.99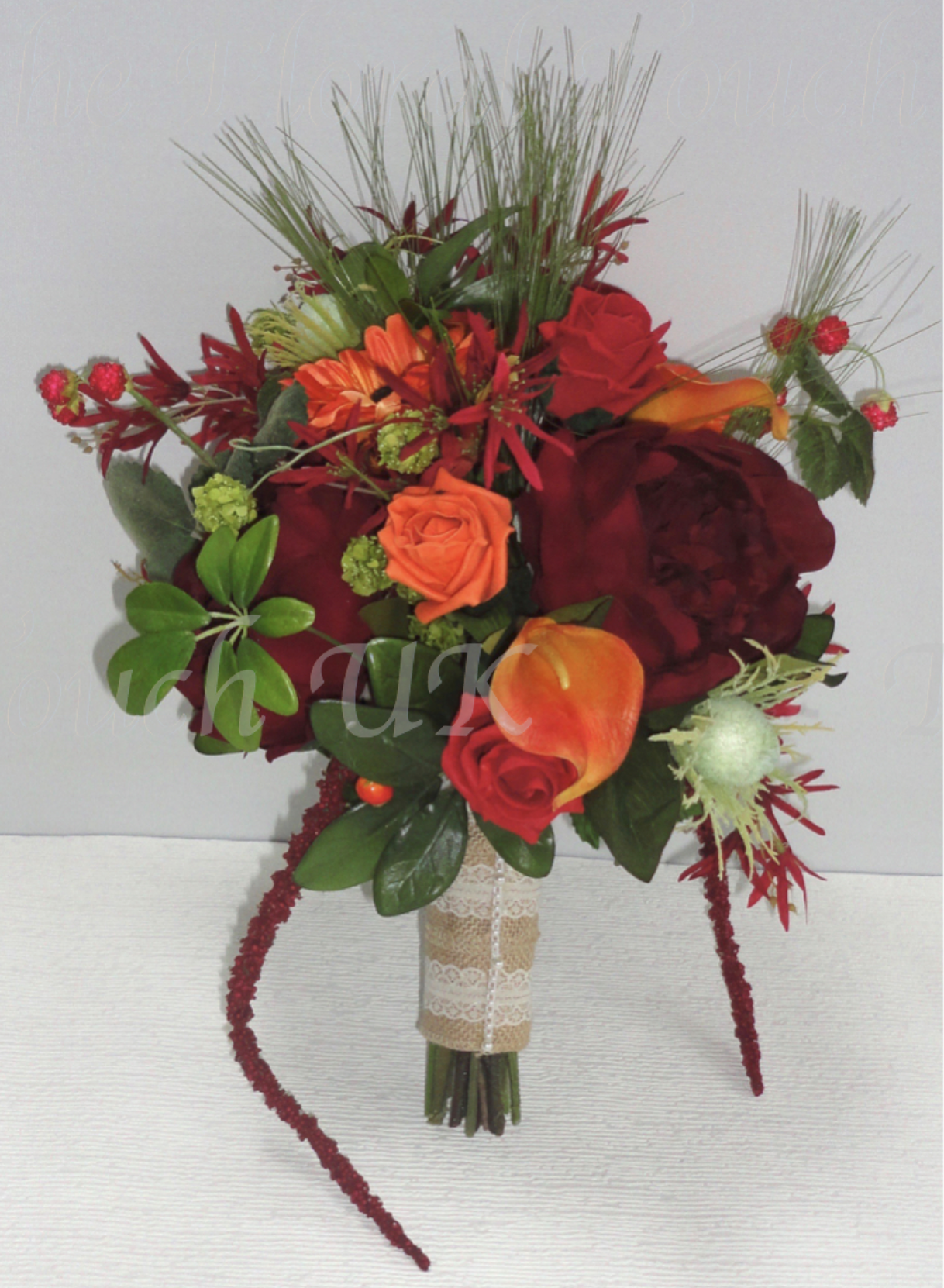 Deep Red & Orange Rustic Style Bridal Bouquet
Extremely lifelike wedding bouquet of beautiful deep red velvet touch peonies and lifelike orange & ruby polyfoam roses, deep red tweedia, raspberry sprays, amaranthus, thistle bombs, orange real touch calla lilies, flame orange gerberas and needle grass and umbrella leaf foliage - stems wrapped in hessian with lace overlay and pearl detail.
STYLE NO. BB398 - £89.99
As with all our wedding flowers other items can be created to match.
Champagne Gold & Ivory Rose Wedding Bouquet
Pretty bouquet of champagne gold and ivory lifelike polyfoam roses with gold & ivory pearl detail & real touch variegated fiscus foliage - Stems wrapped in gold satin ribbon with ivory organza ballet style overlay with pearl pin detail.
STYLE NO. BB234 - £44.99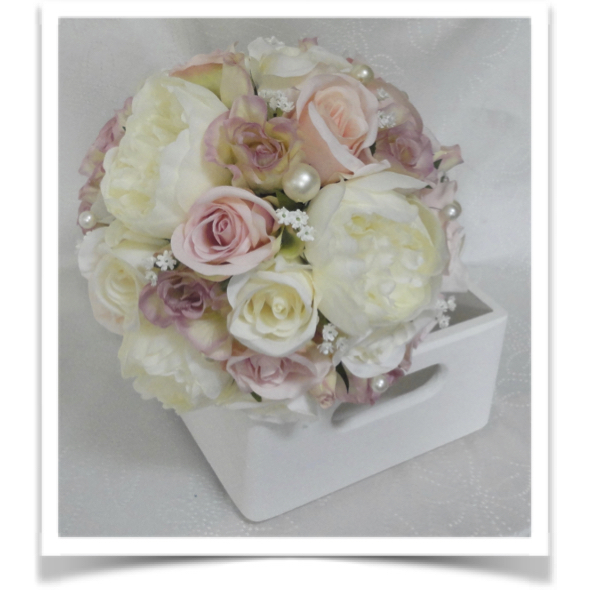 Pastel Rose & Peony Vintage Style Bouquet
Romance is in the air....a beautiful soft romantic bouquet of ivory peonies and delicate muted shades of pinks and blush peach will compliment most colour schemes - various size pearls and a little hint of real touch latex gypsophila - stems wrapped in hessian with lace overlay or your own choice.
STYLE NO. BB206 - £49.99 - 24cm diameter
Ivory Real Touch Tulips with Red Silk Rose Buds
An elegant sophisticated bridal bouquet of tulips & roses with beargrass loops and foliage & freeze dried gypsophila - finished with red satin ribbon ballet style and bow with diamante brooch.
STYLE NO. BB391 - £49.99
Red & Pale Ivory Rose & Peony Silk Wedding Bouquet
Red silk & ivory polyfoam roseswith sage/grey foliage silver diamante ribbon roses, ivory pearls and diamantes to centte of all roses - handle wrapped in silver ribbon with red, silver and ivory streamers
STYLE NO. BB435 - £52.99
Approximate Size: 25cm diameter
Please be aware that colours show differently on different screen types - If you require a close as possible match please supply a fabric sample
Telephone: 0753 425 9800 - Email: [email protected] - THE FLORAL TOUCH UK - Registered Business - 2008 - Verified & Secured