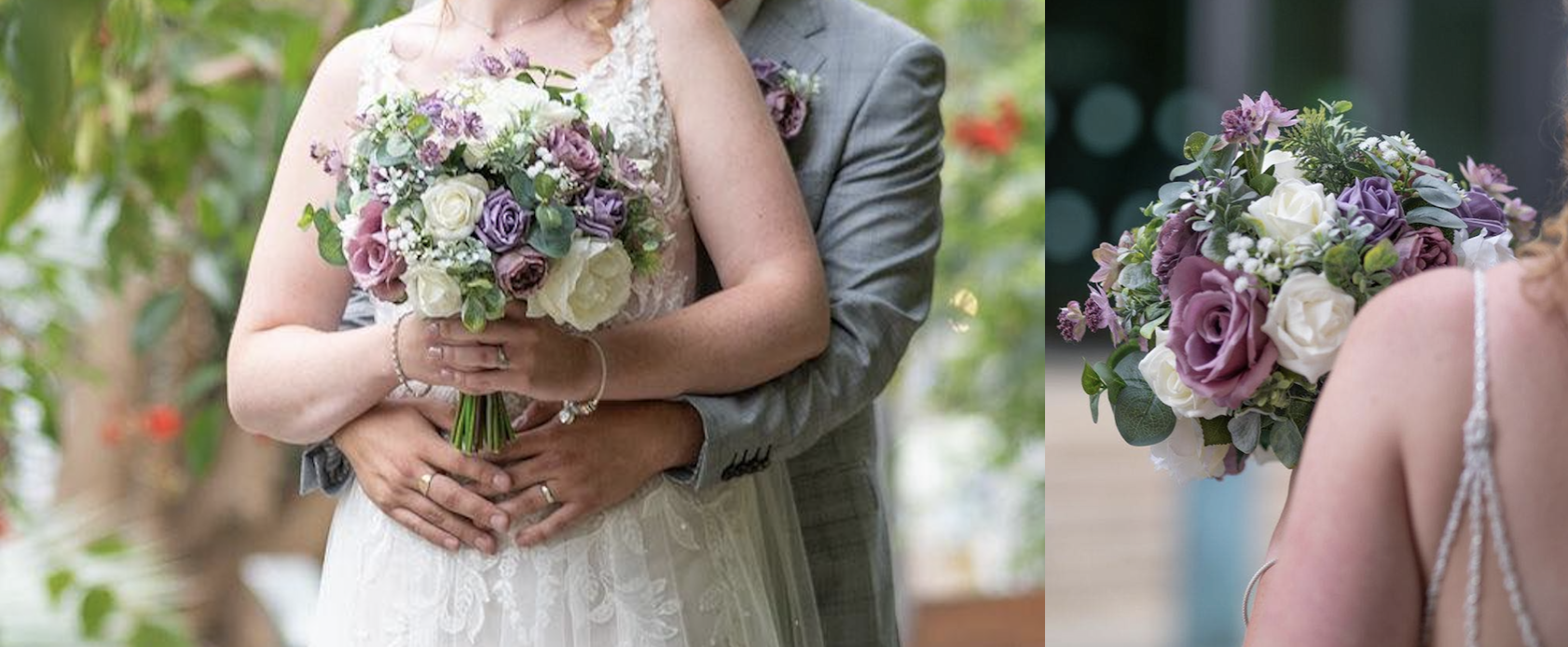 SILK WEDDING BOUQUETS
Beautiful, Lifelike & Unique
We would be very happy to supply a quotation for all other wedding flowers that you would like made to coordinate with your chosen bouquet.
Please contact us for a no obligation quotation
♥︎ All other wedding flowers can be made to match with your chosen bouquet so everything will coordinate perfectly ♥︎

Blue & light Coral/Peach Bridal Bouquet
Blue hydrangea, light silk coral roses with ivory scabiosa, veronica, berry clusters, light coral hypericum berry sprays, blue nigella and flocked foliage - stems wrapped in navy blue velvet ribbon or own choice
STYLE NO. BB434 - £65.00
Approximately 28cm diameter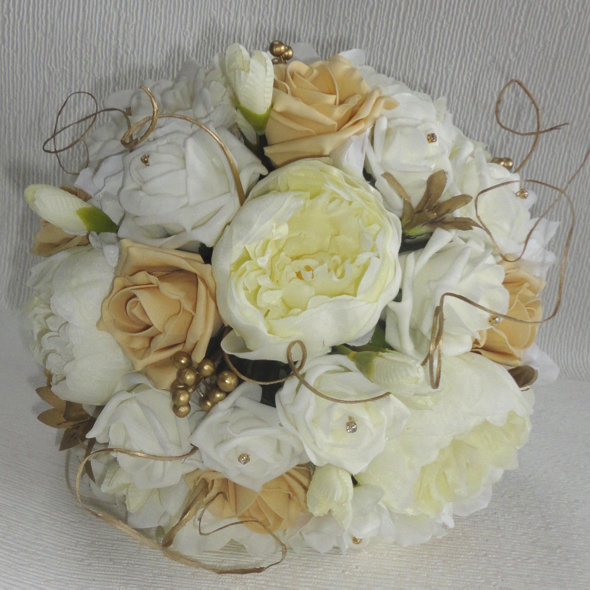 Gold & Ivory Peony & Rose Bridal Bouquet
Beautiful Bouquet of gold & Ivory lifelike polyfoam roses with beautiful quality silk peonies and gold ting ting, gold daisies and gold berry clusters gold diamante to centre of all roses.
STYLE NO. BB114 - £69.99
Approximate 26cm diameter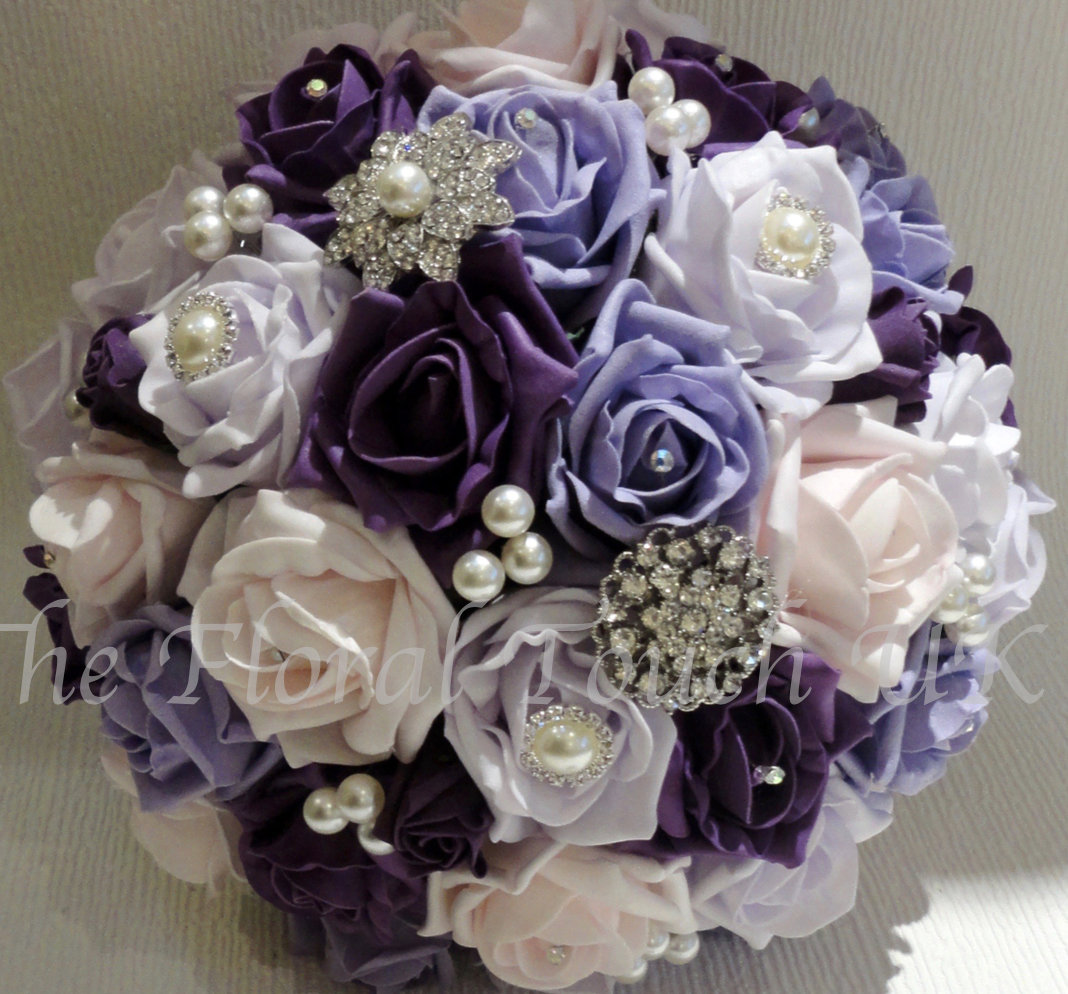 Plum, Lavender, Ice Lilac & Ice Pink Bridal Bouquet with Brooch
Beautiful bouquet of lifelike polyfoam roses in ice lilac, ice pink, dusky lilac and plum, with iridescent crystals to centres of most roses, pearl clusters, diamante & pearl embellishments and diamante & pearl brooches
STYLE NO. BB117 - £67.99
Approximately 26cm diameter
Dusky Mauve, Ivory & Baby Pink Bridal Bouquet with Gypsophila
Gorgeous vintage style bridal bouquet of dusky mauve/pink roses with ice pink & ivory lifelike polyfoam roses, pink wax flowers, trachelium, elderflower & gypsophila, diamante to centre of large roses - stems/handle wrapped in ivory satin with full lace wrap overlay.
STYLE NO. BB115
Approximately 26cm diameter
Lavender & Lemon Bridal Bouquet
Beautiful modern lifelike bridal bouquet with lavender and lemon roses, silver brunia berries, pourple thistles, sparkle iced spruce and fern foliage with freeze dried gypsophila and lifelike sage flocked lambs ear leaf foliage a truly beautifiul lifelike boquuqet.
STYLE NO. BB109 - £59.99
Approximately 26cm diameter
Daisy & Daffodil Wedding Bouquet with Gypsophila
Delightful bridal bouquet with a 'just picked' look - country rustic design of daisies and daffodils with beautiful lifelike real touch latex gypsophila and beargrass loops - stems wrapped in hessian with lace overlay and raffia tie & bow.
STYLE NO. BB399 - £44.99
Approximately 25cm diameter
Vintage Style Bridal Bouquet of Roses & Peonies
Pretty vintage style smallbridal bouquet consisting of ivory peonies, ivory eternity roses and dusky pink romance roses with foliage in green & sage green - stems wrapped in choice of lace, satin or hessian - hessian with lace overlay (+ £1.50).
STYLE NO. BB384 - £44.99
Approximately 24cm diameter
Antique Pink & Cream Rose Bridal Bouquet With Vintage Style Brooch
SmallBridal Bouquet of beautiful vintage style silk roses in vintage/antique mauve and cream with crystal type bead chain detail and pearl and diamante & pearl vintage style brooch - Stems wrapped satin ribbon with lace overlay.
STYLE NO. BB300 - £39.99
Approximately Diameter 24cm
Sea Holly (Eryngium Thistle) & Eternity Rose Bridal Bouquet
Beautiful bouquet of ivory eternity roses and Sea Holly Thistles handle wrapped in satin navy/midnight ribbon with ballet style ivory satin overlay.
STYLE NO. BB388 - £65.00
Approximately 26cm diameter
Winter White & Blue Wedding Bouquet
Winter white roses & peonies with deep blue thistles, forget-me-not, flocked fern, fern sprays and Eucalyptus
STYLE NO. BB463 - £49.99
Approximately 26cm diameter
Registered Business - 2008